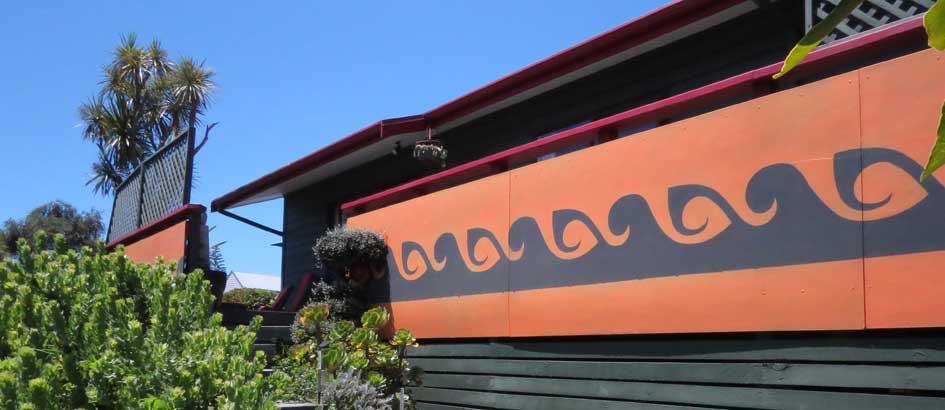 Visitor Comments
Read some of the great comments from visitors to our romantic homestay nestled between the Ocean and the Harbour in sunny Ohope beach
See more great reviews on TravelBug and TripAdvisor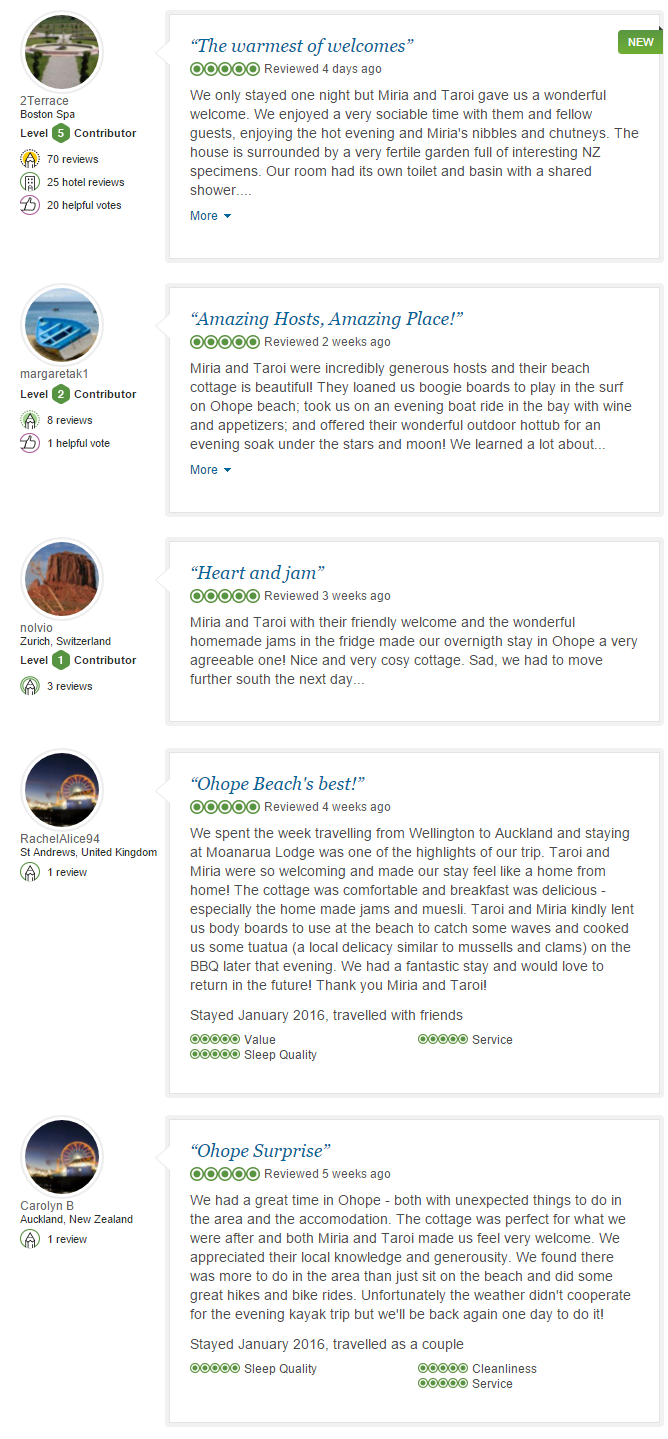 Visitor Book Excerpts
Bob and Inez Masefield, Thames, NZ:
"Very friendly hospitable people. An excellent example of Kiwiana."
Sean and Bridget Gregory, Napier, NZ:
"Clean and comfortable room and a relaxing spa. Just what we needed after a long day driving. Well done."
David Cerqueira and Carole Jourvenaux, France:
"Very friendly. We are very happy. Great!"
Richard Jenkins and Ja Vayne Metzer, USA:
"Thank you. Thank you!!! We had a wonderful time!"
Phil and Roby Dummigan, UK:
"A small taste of paradise. Thank you."
Irene and Abele Manfred, Germany:
"A lovely little house. We had a very good sleep. Thank you for your warm welcome."
Ruth & Tom McCaughan, Mangakino:
"A real Maori cultural experience.Lovely, kind, open, generous and spiritual hosts. A peaceful spot close to the beach with soothing sounds of the sea… Thank you once again for your loving hospitality. We will return home refreshed. We look foward to our next visit"
Jenny and Ross Marshall, Sydney, Australia:
"Thank you for a wonderful welcome. We love your place and we love New Zealand!"
Elaine and Jeremy, Auckland, NZ:
"Great location, food and hospitality. We had a very relaxing weekend. Thankyou!!"
Amanda and Chris Haeni, California, USA:
"Thank you for the very warm welcome to NZand your beautiful place and culture. We enjoyed every moment!"
Stuart Fogg and Mahea Uchiyama, Caifornia, USA:
"You and your beautiful families have provided the highlight of our holiday.
Thank you!! Was a short time but it was very nice to meet you!!"
Yoramand Sari Lanit, Israel:
"Thank you for a very warm welcome. Hope to see you in Israel sometime.
Ka kite ano."
Poem
Moanarua is her name,
The house between two seas.
Where you can hear the ocean's song
And feel his cooling breeze.
The blue surf pounding on the beach,
The waves so great to ride,
His changing moods at different times
The rise and fall of tides.
And then the harbour's gentler scene
Where water comes and goes
More quietly, but just as blue,
It is as if she knows.
We get a certain energy
Where waves crash on the sand
But sometimes need a softer way
To slip away from land.
Moanarua, here you stand
'Tween harbour and the sea
I thank you for the little while
You've shared your space with me.
Pat C, UK
22.01.05